Wojciech Szczesny Tells Ramsey: Your Career Is Now About Winning
By The Editor
on 12th February 2019

Wojciech Szczesny seems to deliver a slight jab at Arsenal following Aaron Ramsey's announcement…
---
Former Arsenal goalkeeper Wojciech Szczesny reacted to Aaron Ramsey's announcement of his impending move to Juventus by stating that he'll now expect to win trophies.
Ramsey took to social media to confirm the reports that he's now signed his pre-contract agreement with Juventus for a summer move once his contract expires in June.
The fact that we've let the situation reach this point where one of the most coveted midfielders in Europe is heading out on a free transfer reaks off awful management.
Having said that, Ramsey has decided to take on a new chapter in his career and move abroad to join one of Europe's elite clubs.
The dressing room in Turin will not be entirely unfamiliar to the Welshman as he'll join up with former teammate Szczesny who's now the Italian giant's No.1.
"Welcome to Juve family!" Szczesny wrote on Ramsey's Instagram page.
"Get yourself ready for hard work. The next few years is all about winning! PS. what's my commission!"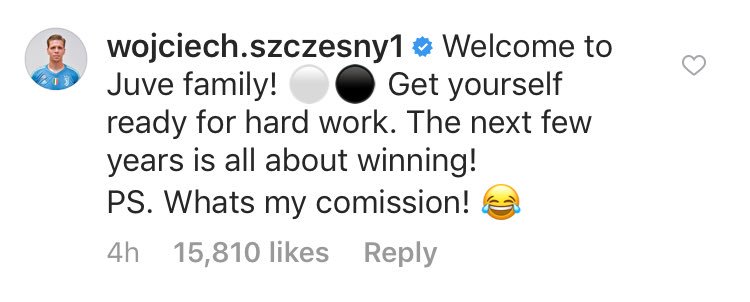 Given that Szczesny's exit from Arsenal didn't go too smoothly, one gets the sense that he's used this opportunity to land a dig at the club.
Insinuating that Ramsey will now have to work hard and that he'll now be able to quench his thirst for trophies at Juventus given their dominance in Italy.
Of course, I could be looking into this a bit too suspiciously but it seems all is not well between Szczesny and Arsenal.